GTA: The Criminal Enterprises - The Loop
Play Sound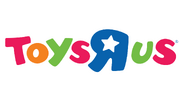 Toys "R" Us is a toy retailer that was founded in 1957. They are the current owner of the Air Zone and Stats Blast brands.
Details
History
Toys "R" Us was first opened by Charles Lazarus back in 1957 in Rockville, Maryland, as an extension to his children's furniture store. Over time, it expanded throughout the United States, and outside to other countries as well.
It entered a deal with online shopping website Amazon in 2000, where Amazon would be the sole online dealer for Toys "R" Us' products. Intended to last ten years, the contract ended early and Amazon allowed third-party companies to sell their products on the website. This led to a lawsuit between the two in 2006, resulting in Amazon having to pay $51 million in 2009.
In the late 2000s, Toys "R" Us would start their own brand of dart blasters, by re-releasing existing products from other companies and brands. This included the likes of Buzz Bee Toys products, Zuru's X-Shot brand, various Prime Time Toys brands, and more.
The brand was purchased in 2005 by Bain Capital Partners LLC and Vornado Reality Trust.
Toys "R" Us filed for Chapter 11 bankruptcy on September 18, 2017, following declining sales and the emerging concept of "retail apocalypse". A year later, Toys "R" Us closed all stores in the United States and the United Kingdom. While initially planned to close, its Canadian stores saw enough success that they could stay in operation. The Canadian chain would be bought out by financial holding company Fairfax Financial.
In January 2019, Toys "R" Us emerged from bankrupcy with a new store concept, Geoffrey's Toy Box, under the name Tru Kids. That same year, Toys "R" Us was announced to be re-opening some of its stores that winter.
Series exclusive to Toys "R" Us
The following series of products are exclusive to Toys "R" Us stores, as well as their online website. For a list of blasters exclusive to Toys "R" Us, see Category:Toys "R" Us exclusives. For the Air Zone and Stats Blast brands, see Air Zone.
External links