Merge or Split
Should we have individual articles on each of the 4 blasters of one merged article on all 4. they are very similar so i dont see the point of making an article on each one. what are your thoughts? Monkeyman0490 (talk) 21:12, September 13, 2019 (UTC)
A single article for them would be enough. Having one for each variant is definitely overkill, if you ask me.
Clue Elimination Blaster(s)
Alright, so I consider the four variants to be different color schemes of one of them, just like the RIVAL red and blue blasters. So my point is that the Clue Elimination Blasters are one singular blaster, with four variants of itself, being the four colors.
Amer1ciuM (talk) 23:20, September 13, 2019 (UTC)
Image i made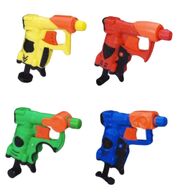 All 4 blasters in one image
Monkeyman0490 (talk) 19:01, September 14, 2019 (UTC)