Fire Emblem Warriors: Three Hopes - The Loop
Play Sound
For the X-Shot blasters of the same name, see Scope (X-Shot Excel) or Scope (X-Shot Zombie).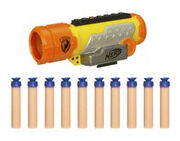 A scope is a type of accessory that is meant to help users improve their firing accuracy.
Details
Most scope accessories are attached to a blaster via an tactical or accessory rail, meaning that they can be removed or swapped out based on the user's desires. Compatibility between blasters depends on the type of tactical rail used on a blaster.
To help with the aiming process, scopes have a reticle, crosshair, or another point of reference meant to act as a guide as to where a dart will land when fire. However, this is often not the case, due not only to the way that darts fire, but also the way the scope attachment will sit and align atop the blaster in question.
Unlike their real world counterparts, most dart blaster scopes do not feature magnification, with the exception of the Nerf Day/Night Zoom Scope. Many features small plastic inserts that act as if they would function as lenses, although these do not serve any purpose other than for aesthetics.
History
The first Nerf scope accessory was the 1995 Max Force Sawtooth's scope-barrel extension interchangeable accessory. The first tactical rail-compatible scope was the Targeting Scope, released alongside the N-Strike Longshot CS-6 in 2006.
Scopes
Nerf
Tactical rail scopes
| | Name | Year released |
| --- | --- | --- |
| | Targeting Scope | 2006 |
| | Tactical scope | 2008 |
| | Shot Blast scope | 2010 |
| | Centerfire Tech Electronic Scope | 2011 |
| | Ninja Commando Blaster scope | 2012 |
| | Distance Scope | 2015 |
| | First Order scope | 2015 |
| | Targeting Scope | 2015 |
| | Day/Night Zoom Scope | 2017 |
| | Dreadbolt scope | 2017 |
| | Long Barrel Scope | 2017 |
| | Short Barrel Scope | 2017 |
| | Chewbacca Blaster scope | 2018 |
| | Holdout scope | 2018 |
| | Scravenger scope | 2018 |
| | Captain America Assembler Gear scope | 2019 |
| | Hulk Assembler Gear scope | 2019 |
| | BASR-L scope | 2020 |
| | Phoenix scope | 2020 |
| | SR scope | 2020 |
| | Heavy SR scope | 2021 |
| | Eaglepoint scope | 2022 |
Other scopes
| | Name | Year released |
| --- | --- | --- |
| | Range Master scope | 2012 |
| | Predator scope (Ultra-Tek) | 2016 |
| | Heatseeking Scope | 2017 |
| | Illuminated Scope | 2019 |
| | Red Dot Scope | ? |
| | Name | Year released |
| --- | --- | --- |
| | Scope scope | 2013 |
| | Regenerator scope | 2017 |
| | Regenerator sight | 2017 |
| | Hawk Eye scope | 2018 |
Other scopes
Trivia
See also