World of Warcraft: Dragonflight - The Loop
Play Sound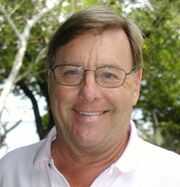 Reyn Guyer is an inventor and toy developer, famous for developing a number of popular toys, including the Nerf Ball.
History
Born in 1935 in St. Paul, Minnesota, Guyer graduated from Dartmouth College in 1957. He initially had a career in marketing at his father's design firm. His first foray into toy development came after inspiration following an attempt at marketing shoe polishing, his legs becoming twisted up in the process; this would result in the 1967 smash-hit Twister.
Following the success of the board game, he created his own toy design company, Winsor Concepts, in 1968. Early developments of their next project involved a caveman game revolving around hiding coins from opposing players and throwing foam "rocks" at them.[1][2] Upon testing, Guyer and his co-workers found themselves more engaged in an all-out battle than with the game they had been designing.
Ditching the caveman game concept altogether, they would go on to shape the rocks into different balls for indoor use, to be revolved around several sports-style games. Windsor Concepts first approached Milton Bradley with their ideas, and were turned down.[2] Parker Brothers was their second attempt, of which was successful, after just a simple test-play with only the most basic ball. This would eventually become the Nerf Ball, which would be released to the public in 1969. The Nerf Ball was successful enough to warrant subsequent "Nerf" products, such as the Super Nerf Ball, Nerf football, and Nerf Disk - all advertised to not cause damage around the house as they are played with.
He was inducted into Hasbro's Inventors Hall of Fame in 1986.[3]
Guyer's creative endeavors did not stop with the invention of what would become the Nerf brand. Following a friend of his, Billy Barber, writing a song for country band The Oak Ridge Boys, he and his daughter would form Wrensong in 1983, a music publishing company.[4][5] It would go on to write music for artists and bands such as Heart, Faith Hill, Garth Brooks, Keith Urban, and Old Dominion.[6]
He also notably lives with dyslexia, and was not given a proper diagnosis until 1973 (alongside his wife), until after children were initially diagnosed with it. Reading therapist Arlene Sonday helped his kids overcome hurdles of their disability; they would partner up in 1991 to create the "Sonday System", to produce resources and materials for teachers with students who had learning disabilities. A company dedicated to these products, Winsor Learning, began in 1997.[4][6]
Guyer would go on to co-write a book Right Brain Red: 7 Ideas for Creative Success in 2016 - with Tim Walsh, fellow toy designer - about his life and the many successes he achieved.
Trivia
Guyer still owns one of the first Nerf Balls to be created; it was cut by hand, from scissors.[2]
References