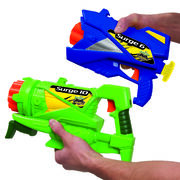 A Power-Lock connector is a feature used with certain Buzz Bee Air Warriors blasters, which allows blasters to connect to one another.
Details
Blasters with Power-Lock connectors have the ability to attach to one another, to stack together to create one massive blaster. While similar to the Nerf Unity Power System, connected Buzz Bee blasters require individual priming and use, rather than using one core blaster to fire multiple ones.
The Ultimate Blasters series features a similar premise, with blasters attachable to one another; unlike those with Power-Lock connections, Ultimate Blasters blasters can only be attached to each other in a specific order, with "A-Type" blasters being top-most and "C-Type" blasters being bottom-most. These blasters are compatible with Power-Lock connections as well.
List of blasters with Power-Lock connections
Community content is available under
CC-BY-SA
unless otherwise noted.