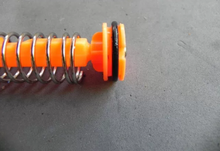 An O-ring is an internal part found on all non-electric blasters.
Details
An O-ring forms a seal in the plunger tube, and in direct plungers, it also forms a seal in the plunger head. The point of the seal is to keep the air in, and push it out the other side, which increases performance. It also forms a better seal than plastic.
Modification
Modification of the O-ring usually means replacing the O-ring with a one with a better seal, O-ring replacements usually have more rubber, or is more sealed overall, which increases performance. Another modification for the O-ring, is re-lubricating the O-ring to form a better seal. Orange Mod Works sells grease to help re-lubricate the O-ring. Caution is advised, as removing the O-ring without care can cause it to snap, as it is fragile under pressure. Thus the O-ring has to be removed slowly, and with care as well.
| | |
| --- | --- |
| | This article is a stub. |