Roblox: DeepWoken - The Loop
Play Sound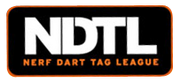 The Nerf Dart Tag League (or NDTL) was an annual Dart Tag tournament hosted by Nerf that was formed in 2008.
History
Tournaments were held from 2009 to 2011. There was not a tournament held in 2012; this was due to the Dart Tag series not selling well enough to support a tournament that year.[1]
It was confirmed at the 2013 London Toy Fair that the future of the Dart Tag series and the Nerf Dart Tag League in the US would be controlled by the United States division of Toys "R" Us.[1]
Rules
Teams are composed of players either between the ages of 8 to 12 or 13 to 18. Teams are provided with Vision Gear, official competition jerseys and Tagger Micro Darts.
Game play
NDTL matches are each five minutes long and play like Capture the Flag. A flag is located at team bases, which can be captured by the opposing team. An air horn signals the start and stop of each match; players must be in their team penalty box prior to the start of the match. Teams win by having the highest score by the end of the match.
During play, if a player is tagged, they must go to their team's respective penalty box and stay there for a ten second penalty before returning to the field. If a tagged player was holding a flag, they must drop the flag where it is and go serve the ten second penalty. The flag is always played where it lies.
Scoring
Players can score by a few different methods:
Tagging opposing players: Firing darts and hitting opposing players will give a team one point. Darts must stick to the opposing player's jersey in order for the tag to count. After serving the ten second penalty, the tagged player is allowed to remove the dart from their vest.
Capturing flags: Flags are captured by taking the opposing team's flag back to the player's base and place it inside the team's flag stand. Capturing a flag will give a team five points.
Seasons
Year
Winning team
2009
Terminators Squared (8-12)
Determinators (13-17)
2010
Salt Lake City, Utah Determinators
2011
Quicksters (8-12)
Legit Northwest (13-17)
Trivia
Prior to 2011, matches were played in inflatable rooms instead of AstroTurf fields.
In different countries such as Singapore, matches are played in indoor arenas.
References
↑ 1.0 1.1 MyLastDart (2013-01-22). Coverage of the Hasbro Nerf Toy Fair London 2013 stand (Article). MyLastDart. Archived from the original on 2016-03-31. "Because TRUus is in control of Dart Tag tournaments in the USA - because sales have dropped, they stopped the tournaments due to lack of interest (errr). The more they sell, see demand in Dart Tag - the more tournaments they will do - get buying people!!"