Fire Emblem Warriors: Three Hopes - The Loop
Play Sound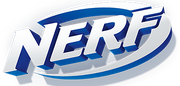 "
It's Nerf or Nothin'!
"
 

— Nerf's current motto
Nerf (trademarked in capitals as NERF) is a Hasbro-owned brand of toys that began in 1969. It is known for its variety of different "safe foam" products, ranging from sports balls to dart blasters to other various toys, as well as its main marketing slogan, "It's Nerf or Nothin'!".
The brand's current mascot is Murph the Nerfoid.
Details
Material
Nerf foam is made from a solid, spongy cellular material produced by the reaction of polyester with a disocyanate, while carbon dioxide is liberated by the reaction of a carboxyl with the isocyanate. Polyester resin reacts with a compound while CO2 is simultaneously released by another reaction. It is this gas that creates open pockets within the polyurethane that, in turn, makes the material soft and light.
History
Main article: Nerf/History
The Nerf brand began in 1969 when toy company Parker Brothers was approached by Reyn Guyer, an toy developer who had developed an idea for series of sports-themed indoor games. One of these would end up becoming the Nerf Ball, released that year to commercial success. The brand would expand to different product types, such as soft foam cars, airplanes, animals, and super heroes.
1989 saw the development and release of what would come to be known as the first "Nerf blaster": the Blast-a-Ball. Nerf was finally merged under the Kenner Products company in 1991, following their 1985 buyout of Parker Brothers. The same year, the first dart-firing blaster was released: the Sharpshooter. Within this same year, Hasbro would purchase Kenner, overseeing their production of Nerf products. By 1995, the over one hundred million Nerf products had been sold.[1] By the early 2000s, development of Nerf's core products fell to Hasbro's hands.
In 2010, Nerf was merged with the recently acquired Super Soaker brand.
Nerf celebrated its fiftieth anniversary in 2019. The mascot character of Murph was introduced in June of 2022.
Slogans
"There's only one Nerf." (classic)
"Get Real. Get Nerf." (classic 2)
"Play Your Game" (2003)
"It's Nerf or Nothin'!" (current)
"Accept No Invitation." (current 2)
"This Is How We Play." (current 3)
"Nothin' but Nerf"(current 4)
"If it doesn't say Nerf, it's not." (current 5)
"Unleash the Play in You" (current 6)
Gallery
Trivia
The widely accepted acronym for Nerf (non-expanding recreational foam) is inaccurate, as the inventor has stated on his website that Nerf was named after the foam padding of bike handles and off-road vehicles.[2]
References
External links