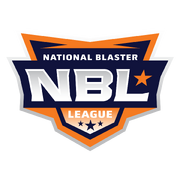 The National Blaster League is an unofficial dart blaster tournament that began in 2018. It is sponsored and hosted by third-party company Battle Bunkerz.
Details
The NBL acts as a successor to Nerf's official Nerf Dart Tag League. Some teams are captained by a popular Nerf YouTube personality. Running commentary is provided by Tyler Lemco of Epic Meal Time, and Jordan The Future.
Each match has a different game type, ranging from Capture the Flag to King of the Hill. "Power Cards" can can be played by team captains before or mid-game to affect game rules, such as changing how tagging out players works or forcing players to drop excess ammunition. Blasters are also limited each match to a single brand series (such as N-Strike Mega or Adventure Force).
Unlike the NDTL, though, matches are scripted and footage is edited in post.
Season 1
The first season of the NBL lasted throughout 2018 and consisted of sixteen matches. The final match ended on a cliffhanger.
Teams
| | Team Name | W | L | Captain |
| --- | --- | --- | --- | --- |
| | Bulldogs | 3 | 7 | Akeem The Dream |
| | Hawks | 3 | 6 | Tania Titanium |
| | Knights | 3 | 7 | Lord Drac |
| | Panthers | 3 | 6 | PDK |
| | Pirates | 3 | 6 | Jacques LeStrap |
| | |
| --- | --- |
| | This article is a stub. |