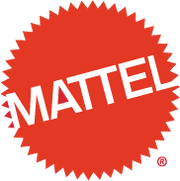 Mattel Inc. is a multinational toy company. Founded in 1945, it is the current owner of the BOOMco. brand of dart blasters.
History
Mattel Creations was founded by Harold Matson and Ruth and Elliot Handler, initially selling picture frames. The first huge hit for Mattel was the Barbie brand in 1959.
Following up with the success of Barbie, Hot Wheels was first sold in 1968. After this Mattel would expand their horizons to produce one of the first cartridge-based video game consoles, the Intellivision, in 1979. This nearly bankrupted the company following the video game market crash in 1983.
Throughout the 1990s, Mattel would make several important acquisitions including Tyco and Fisher-Price. The brand developed its first real entry into the blaster market in 2014 with the BOOMco. line.
Blaster history
Mattel has remained out of the toy blaster market scene for quite some time. Their earliest known significant foam blaster was the Assault Cannon in 1991. This toy was a promotional item under the American Gladiators brand name. This would be followed up by the 1992 Demolition Man AC-MAG, another promotional ball blaster. Many of the future blasters by Mattel would be licensed like their early blasters were.
The most notable pre-BOOMco. blasters were the 1994 Ultimator and 1995 Maximizer. These blasters boasted ranges unheard of at the time, firing over one hundred feet. These used large Ballista Missiles, which are now highly sought after in the Nerf community. For unknown reasons, no further confirmed blasters were released. In the early internet communities these blasters were highly regarded and sought out after.
Until 2014 the majority of blasters produced by Mattel were promotional blasters for the Spider-Man 3, The Dark Knight Rises, and Toy Story 3 films among others. These blasters typically fired foam darts comparable to Nerf brand darts, although typically of a lower quality. It was not until the release of the BOOMco. line that Mattel had truly entered the foam blaster market.
External links