Nerf-related news
Official news
Community news

February 13, 2015

January 20, 2015

The 2015 London Toy Fair is held. The Modulus ECS-10 is officially announced.

January 19, 2015

January 10, 2014

July 25, 2013

January 19, 2013

Argos UK lists an N-Strike Elite Alpha Trooper in its catalog and on its website, as well as a new Dart Tag blaster.

December 11, 2012

November 24, 2012

November 15, 2012

A Nerf commercial actor posted (and later removed) images of the Strongarm (N-Strike Elite) and Rough Cut 2x4 blasters. He also mentioned something about a "Nerf Evolution" commercial. Leaked images can still be found on Urban Taggers.

October 23, 2012

October 17, 2012

A leaked image of the N-Strike Elite Firefly Tech clip surfaces on Urban Taggers.

October 16, 2012

October 11, 2012

A leaked image of a Super Soaker water-storing backpack on Urban Taggers shows off new Super Soaker blasters.

October 9, 2012

Leaked images of a glow-in-the-dark Elite Dart refill pack on Urban Taggers shows packaging art for the Stryfe, as well as a possible N-Strike Elite re-release of the Rayven CS-18.
Featured article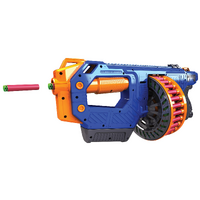 The Tomahawk 60 is an upcoming Dart Zone blaster that will be released in August of 2021. It is a semi-automatic flywheel blaster with a sixty dart drum. Included with it is the new

Red Diamond Dart

ammunition type. It advertises a firing range of up to eighty feet (twenty-four meters)......(read more)
(Archive)
Monthly Nerf poll

Previous poll: What fall 2020 Nerf blaster are you looking forward to the most?

Winner: MotoStryke: 167 votes (64.73%)

If you have a suggestion for the next poll, leave it in the Poll talk page.

(Archive)