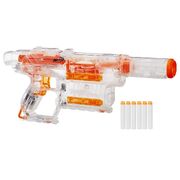 Not to be confused with the system using the same number code.
An internal clip system (abbreviated as ICS with N-Strike number codes) blaster is a category of Nerf blasters that use a built in non-removable clip to store darts.
Details
Internal clip system blasters use an internal clip built into the shell of the blaster to store darts. They are generally loaded from the top one at a time, like a clip system clip. The idea of internal clip merges the concept of the clip system itself with simpler muzzle-loading blasters. Internal clips can also allow users to have to carry no clips on their person, which eases bulk.
Internal clip system blasters
"ICS" blasters
Other internal clip system blasters
See also
Community content is available under
CC-BY-SA
unless otherwise noted.