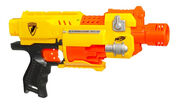 An electronic revolver (abbreviated as RV with N-Strike number codes) is a category of Nerf blasters.
Details
As the name states, electronic revolvers are battery-operated revolvers; electronic revolvers use a flywheel to fire the darts loaded in the blaster. Older electronic revolvers lack dart posts in their cylinders to accommodate the blaster's pusher mechanism, although newer designs feature re-engineered pusher mechanisms in order to retain the cylinder's dart posts. So far, all electronic revolvers are semi-automatic only.
The electronic revolver is one of three electronic-based blaster designs, the others being electronic clip system and electronic belt-fed blasters.
List of electronic revolver blasters
"RV" blasters
Other electronic revolvers
Trivia
Electronic blasters that use large, rotating drums such as the Incisor, Mastodon, ONE, and Fearless Fire have internals and operation similar to electronic revolvers. Due to their large size, they are not considered as electronic revolvers.
Community content is available under
CC-BY-SA
unless otherwise noted.