Not to be confused with cylinder.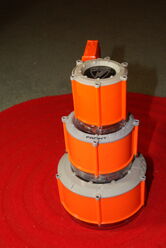 A drum is a dart clip or disc magazine designed for use with certain blasters.
Details
Dart drums are only compatible with dart and disc blasters with Nerf clip system capability.
Drums are normally purchased with blasters. However, they can also be found separately second-hand, such as on internet trading/auction sites like eBay, Craigslist, Kijiji and so on.
The only drum sold new separately was the eighteen dart drum, a Target exclusive like its patron blaster, the Alpha Trooper CS-18.
History
The drum was first introduced with the thirty-five dart drum; at the time of its introduction, it held more ammunition than any other ammunition holding accessory.
The first disc-firing drum came with the release of the Pyragon in 2012.
Drum variations
Dart compatible
Disc compatible
Unreleased drum prototypes
Trivia
Full-auto and slam firing is often considered to be better served by a drum-fed blaster, due to the larger amount of ammunition that can be held in them.

However, drums tend to jam more often than normal clips, especially when the blaster is fired quickly.
See also