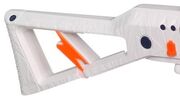 A detachable shoulder stock is an optional Nerf and Super Soaker accessory that helps the user stabilize a blaster or Super Soaker when firing. It also allows the user to shoulder the blaster which can be helpful when aiming. Stocks may include additional features such as the ability to store clips, darts, or other forms of ammunition.
Details
These give the user better stability when firing, but in general have little actual effectiveness because there is almost unnoticeable recoil. Slam fire is perhaps where they become more useful, because it reduces the strain on the user's arm from constant priming.
History
The detachable shoulder stock was introduced in 2008 with the introduction of the N-Strike Recon CS-6.
Stock variations
Interchangeable shoulder stocks
Other shoulder stocks
Compatible blasters
The following blasters are compatible with interchangeable shoulder stocks; some stocks may have difficulty working with certain blasters, however; check the shoulder stock's article to see if blaster incompatibilities have been reported.
Nerf
Super Soaker
Community content is available under
CC-BY-SA
unless otherwise noted.