Elliottw wrote:
... these might be the worst darts you could possibly buy in 2018. IMHO  
Correction: the worst darts you could POSSIBLY buy today are World Tech Warrior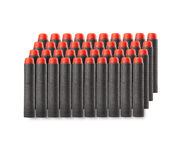 elite clones. Gawd, even saying the name leaves a taste in my mouth.
These are absolute unadulterated trash. Literally.  I threw a hundred of them in the garbage because they were so bad.  Every single one veered off wildly into the weeds. Every. Single. One.  Maybe they were designed as Joke Darts.  They're really meant to pull a Dick-Cheney and hit the guy standing next to you in the face ?